If you're reading this, we'd like to thank you for signing up to our RSS feed, either by email or through your feed reader. As a reward, we're giving you the first chance to win double passes to the incredibly creepy movie Buried, which will be in Cinemas October 7.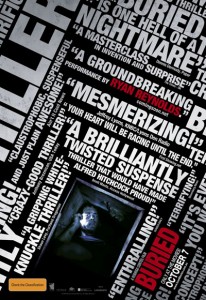 Paul Conroy (Ryan Reynolds) is a U.S. citizen working as a contract driver in Iraq. After a swift and sudden attack on his convoy, he awakens to find himself buried alive inside a coffin with nothing more than a lighter, a cell phone, and little memory of how he ended up there. Faced with limited oxygen and unlimited panic, Paul finds himself in a tension-filled race against time to escape this claustrophobic death-trap before it's too late.
Directed by: Rodrigo Cortez
To win a double in season pass to see Buried, valid all throughout Australia, simply be among the first to email us here with your postal address.